Turbo Charging ERP with BI and CPM
Turbo Charging ERP with BI and CPM
Business Intelligence (BI) - An ERP product provides hundreds of standard reports, generated weekly or monthly or year end basis which acted as a hardcopy dashboards within the organization. In order to improve report generation functionality, an ERP system provides various report writing tools (such as crystal report writer, safari report writer) as well as SQL query functions. A few ERP vendors also attempted to provide hyper relational interface to provide direct logical link to database. But these functionalities are having limited utilization due to complexities of their usability. The user has to still depend on IT department for generation of custom built reports. As a consequence, the "export to excel" is still the most popular mode of creating a customized report from an ERP system.
The need for corporate management is for an analytics which provides an insight to current trend and future direction of the organization, assisting proactive and predictive business management. For the common user, getting simple drag and drop reports, which supports their current decision making process on operational issues, without the help of IT department, is also an imperative.
Advent of BI - A number of product developers have currently come with their offering of BI tools to meet this business need. This includes more generic products offered by SAS and Cognos as well as products targeted to specific business segments such as BI for procurement offered by Informatica. ERP product developer also started to embed their products with BI suite.
Functioning of BI: BI tools are database independent and provides access to ERP data, legacy data and off line data. It also interacts with data warehouse to access instances of data. It encompasses and pull information from various ERP modules and other installed software and presenting it in real time. It provides a dashboard with drill down capacity that gives a single and consolidated view of relevant information without forcing the end users to switch between several windows and applications. End users create tailored view of data involving their operation through simple drag and drop operation. BI comes with strong analytic tools which facilitate sorting, calculation, analysis of data and provides different graphical representation to identify critical key trend and opportunities.
Corporate Performance Management: The corporate performance management systems are built over the platform of business intelligence. It provides a bi-directional integration of strategic, operational and tactical business process metrics where strategy is broken down into operational targets and the execution is monitored and adjusted to achieve the set targets. CPM builds on a number of methodologies and system solutions to achieve this objective and ensures the drive for performance is coordinated and becomes the responsibility of each person in the organization.
Approach to CPM: The approach to CPM, based on the principal of predictability, visibility, accountability and confidence emanating in the eyes of investors, other stakeholders and regulatory authority for an organization, is comprised of the following:
Enterprise risk management which requires predictive risk analysis capability.
More stringent corporate governance to meet legislation accountability.
Formation of executable strategy.
Goals and rewards linked to strategy.
Becoming an agile and real time enterprise.
Management process improvement beyond ERP.
Structure of CPM: CPM solutions are built over existing ERP and BI systems, as per the following diagram: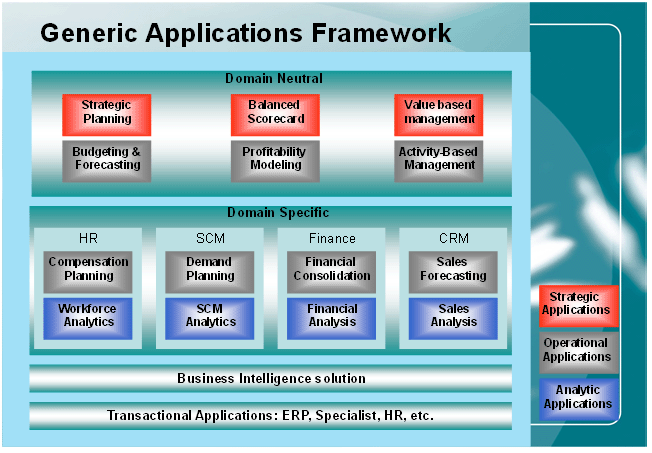 Similar Articles Under - Enterprise Resource Planning - II
Authorship/Referencing - About the Author(s)
The article is Written By "Prachi Juneja" and Reviewed By

Management Study Guide Content Team

. MSG Content Team comprises experienced Faculty Member, Professionals and Subject Matter Experts. We are a

ISO 2001:2015 Certified Education Provider

. To Know more, click on

About Us

. The use of this material is free for learning and education purpose. Please reference authorship of content used, including link(s) to ManagementStudyGuide.com and the content page url.
Enterprise Resource Planning - II
next