Service Module - Setting Up and Configuration Control
Service Module - Setting Up and Configuration Control
It is of utmost importance for any business enterprise to maintain their existing customers. A proper after sales service through quick response prompt delivery is needed for enhancing customer satisfaction. Service need may encompass scheduled as well as unscheduled maintenance, warranty management, defect identification etc.
Salient feature of a service related module:
Proper and Systematic Maintenance of records
Proper records of Product and component details customer wise with classifications customer wise.
History of servicing done, and an analysis of the same
Facility to provide for Contract's and Warranties to improve customer satisfaction.
Preventive Maintenance planning
Unscheduled Maintenance Handling
Overview of ERP service module - This is best illustrated by the following schematic diagram: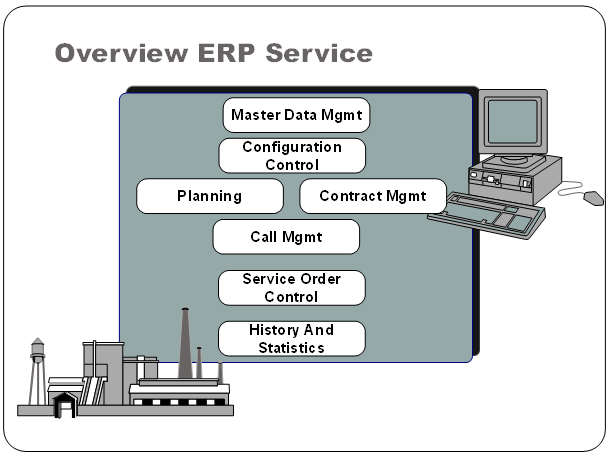 It may be seen from the above that an ERP service module constitutes of following major components
Master Data Management.
Configuration Control (Installations).
Call Handling - To be detailed in subsequent paper.
Service Orders - To be detailed in subsequent paper.
Planning and Concepts (Preventive Maintenance) - To be detailed in subsequent paper.
Warranty and Contracts - To be detailed in subsequent paper.
Master Data Management: Master data management is used to set up service module and broadly consists of maintaining general service data, service organization data and service items data as per following details:
General Service data:
Labor rates used across the organization for carrying out different tasks
Defining Various kinds of Tasks that are carried out by the organization
Hourly Labor Types such as normal hours, overtime hours.
Service Types such as whether the service relates to external maintenance, internal maintenance, help desk.
Service organization data: Service Centers
Service Areas
Areas can be further classified into zones to determine travelling costs
Linking Service Areas to Service Centers and Warehouses
Service Employee knowledge, skills and experience.
Service Cars can be also be defined and linked to service employees
A typical service organization is depicted by the following schematic diagram: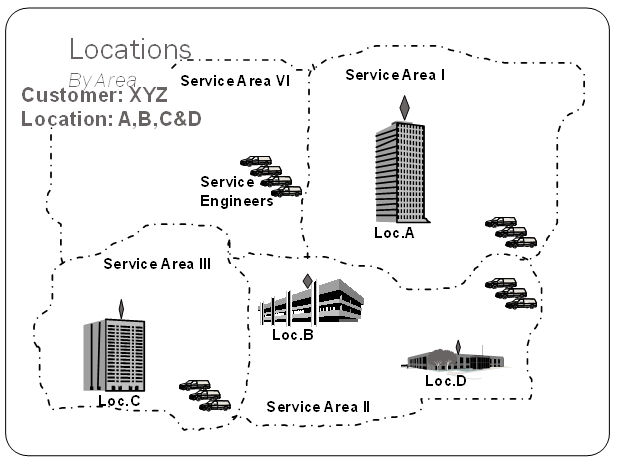 Service item data: Following details are recorded under service item data:
All the default data for the item to be used in service is defined which may include cost of activities to be subcontracted, price list for service activities etc.
Maintenance concepts such as classification of an installation, part of an installation or a product/ component (under warranty terms).
Service Bills of Material uses data for estimating materials required for a service order.
Configuration Control (Installations) - Service bill of materials is used for maintenance of a standard product. For customized items a configuration which define product structure and consists of various objects, is needed to be defined. The concept is best illustrated by the following schematic diagram: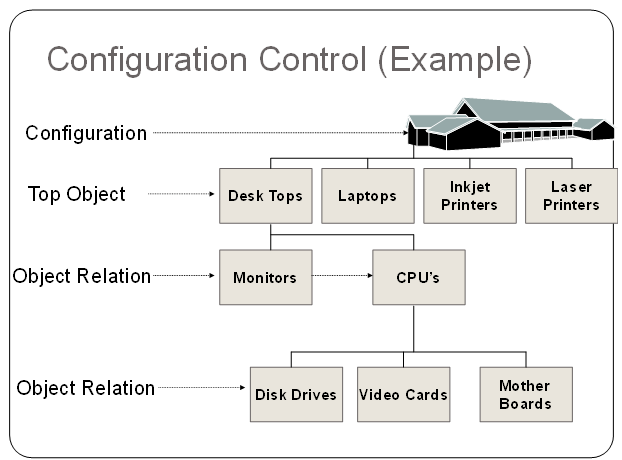 With the Item data of a delivered product and the customer (location) data, a Configuration is generated by entering a Configuration Code. Object is a component of a configuration which is an item sold plus its serial number. Warranty, replacement, and history of repairs are directly associated with objects. Objects are controlled by versions and version control is used to keep structural changes of a configuration.
Similar Articles Under - Enterprise Resource Planning - II
Authorship/Referencing - About the Author(s)
The article is Written By "Prachi Juneja" and Reviewed By

Management Study Guide Content Team

. MSG Content Team comprises experienced Faculty Member, Professionals and Subject Matter Experts. We are a

ISO 2001:2015 Certified Education Provider

. To Know more, click on

About Us

. The use of this material is free for learning and education purpose. Please reference authorship of content used, including link(s) to ManagementStudyGuide.com and the content page url.
Enterprise Resource Planning - II
next