Alibaba's Singles Day
Alibaba's Singles Day
Alibaba is a Chinese online retail company. This company started as an Amazon wannabe in the Chinese economy. However, today it would be fair to say that Alibaba is equivalent to, if not bigger than its American counterpart. Alibaba's rise to economic power is filled with many stories. One of them is the story of "Singles Day".
Traditionally, the Black Friday after Thanksgiving is known to be the biggest shopping event of the year. Long queues and dangerous stampedes are common as the prices of products are reduced to a bare minimum to encourage consumers to indulge ahead of the holiday season. The Black Friday shopping phenomenon has been around for decades. However, astonishingly Alibaba's singles day has surpassed the sales volume of the Black Friday within a decade. Last year, the total sales recorded during the singles day festival were more than $25 billion. This gigantic sales numbers are more than twice the numbers of Black Friday!
In this article, we will have a closer look at the history of single's day which has become a modern day retail phenomenon.
History of Singles Day
During 2009, an Alibaba executive named Daniel Zhang observed a curious phenomenon. He observed that there were many days which were celebrated by family people. There was fathers' day, mothers' day, children's day and so on. However, there was no festival which would celebrate people who were single or did not have families.
Zhang had observed single's day being celebrated in China's Nanjing University in the late 1990's. This event was celebrated by individuals as a way to resist societal pressure to get married. This is the reason they chose the date 11th November or 11.11 to celebrate this day. Since the date was made up of 4 single "1"'s, it seemed to convey the idea of being single.
Zhang observed that this sentiment had become more prominent in the Chinese youth in the late 2000's. This is why he decided to start an online sale to commemorate this event.
During the first year, Zhang could not find many merchant partners who were willing to collaborate. However, he still decided to continue with the event. Surprisingly, the event turned into a grand success. This drew the attention of senior officials at Alibaba.
Finally, over the years, the singles day phenomenon has been growing at record speed. As mentioned above, it has now morphed into the biggest shopping festival in the world. Buoyed by the success of his idea, Zhang is now set to head Alibaba group after Jack Ma retires and takes on an honorary role.
Today, the idea of singles day is not restricted to China or Alibaba alone. In 2018, Alibaba decided to take the event to other Asian countries as well. Also, Alibaba's competitors such as JD.com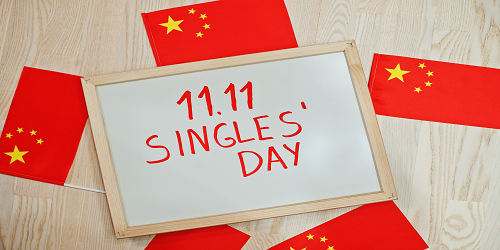 How Singles Day Helps Alibaba?
The singles day phenomenon has helped Alibaba achieve many important targets. Some of them are as follows:
Sales Growth: Alibaba has used the singles day to achieve massive sales growth. The rate of growth has been slowing down over the years. For instance, during the earlier years of the event, sales would grow at 65% per annum. However, as the base became bigger and the market matured, sales have now been growing at close to 40% per annum. This is still a significant number.
Push into Physical Retail: Just like Amazon, Alibaba also wants to dominate the retail sector. This is the reason why it has also started many offline stores where shoppers can shop in person. The singles day deals are available at these brick and mortar stores. These deals are also available at many partner locations. These brick and mortar stores see large influx of shoppers during the singles day festival. Alibaba is thus making their users accustomed to shopping at their stores with the help of singles day festival.
Mobile Wallets: Alibaba is trying to aggressively expand into mobile wallets space. The company has created a payment medium called Alipay. This is not very popular with the shoppers at Alibaba. Hence, in order to increase the adoption of Alipay, Alibaba offers more discounts on singles day. Payments via Alipay are accepted online as well as offline. The final outcome is that singles day is helping Alibaba get a stronger foothold in other lines of business as well.
Ancillary Services: Alibaba has also invested heavily in ancillary services such as its delivery platform. Since this platform exclusively caters to Alibaba, it has been valued at a whopping $30 billion. When Alibaba's sales skyrocket during the singles day period, so do the orders for its delivery platform. As a consequence the valuation of the delivery platform also skyrockets.
To sum it up, Alibaba has already been wildly successful with its singles day event. An obscure event started by them is now the biggest shopping festival in the world. The country is now taking the festival to other locations such as Russia and Pakistan. This year, it is expected that the company's sales will cross $35 billion during the period. However, Alibaba is staying tight lipped about the numbers. Regardless of what the numbers turn out to be, Alibaba has already reached remarkable heights.
Authorship/Referencing - About the Author(s)
The article is Written By "Prachi Juneja" and Reviewed By

Management Study Guide Content Team

. MSG Content Team comprises experienced Faculty Member, Professionals and Subject Matter Experts. We are a

ISO 2001:2015 Certified Education Provider

. To Know more, click on

About Us

. The use of this material is free for learning and education purpose. Please reference authorship of content used, including link(s) to ManagementStudyGuide.com and the content page url.