Supply Chain Network and Technology
Supply Chain Network and Technology
The entire concept of business philosophy has moved away from traditional model to being more customer oriented, driven by demand and based on collaborative and joint operational strategies across global markets.
Supply Chain Networks have in recent times evolved from simple sequential and linear process networks to highly dynamic processes that call for information and sharing and visibility to be available across the network coupled with decision making on real time basis. Integrated approach to managing logistical tasks in a highly dynamic marketplace is necessary as it involves some internal as well as external business processes and agencies working in tandem to manage supply chains.
Logistics events at each stage of the network demands a transactional exchange of information and documentation which further leads to decision making by various stakeholders at each activity level on a continuous basis. The technology has not only reduced supply chain timelines, but increased its reliance on system and application capabilities to manage critical processes.
Applications today manage multiple functions in Supply Chain. While applications primarily function as storehouse of information, database to capture all transactional information and history, they also drive and enable processes in the supply chain.
Various technology platforms collaborate and function to enhance supply chain network functions today. Applications like ERP with various modules covering all functions like MM, SCM, etc.
Warehouse Management System, Warranty Management System and many more core business enterprise systems drive business processes in Supply Chain network.
However these systems alone do not suffice. Many more applications to support these systems are used as required depending upon specific process and needs of the business. Supporting soft wares may be used as stand-alone applications or integrated with the ERP. Most often it is found that the systems are used as stand-alone applications without having to integrate with ERP instead of the cost of integrating and the effort involved therein.
Let us take the example of a supply chain situation of managing multiple vendor supplies in a warehouse owned and managed by a 3PL service provider on behalf of multiple vendors at the buyers plant location to effect Just in Time supplies in a VMI Distribution Center. Operations involve sellers at one end, the buyer at the other end besides in-house operations and the freight services and logistics of inbound traffic. The 3PL warehouse has to be linked with Buyer to constantly publish updated inventory information and snapshots to buyer's system to trigger call off for materials to be supplies as well as to trigger procurement cycle. 3PL warehouse system also needs to be talking to suppliers/sellers to give visibility to inventory to trigger replenishment cycles in sellers system. Further, 3PL Operations need visibility to trace and track shipments in pipeline with the freight forwarder.
All these multiple systems talking to each other in real time is made possible by communication enabling applications including interfaces, EDI, The Internet, e-mail, Web Enabling of applications, etc.
Flow of Information and Cargo in a Supply Chain Network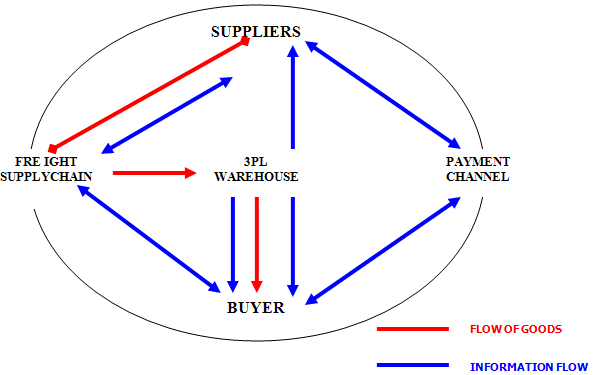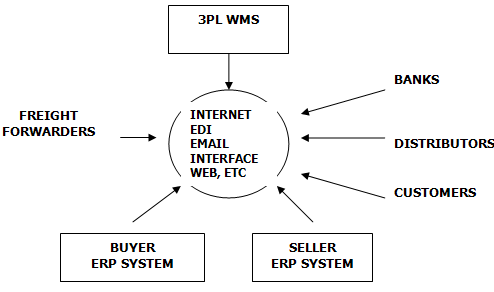 In a highly evolved technology-driven supply chain, the need for managing processes, events and deviations on a 24 × 7 basis is a must. Multi process network, sharing knowledge, information, and enabling transactions can be managed only with an electronically enabled technology solutions driving businesses processes. These technology enterprises need to be able to work in collaborative mode and be supported by infrastructure support and an IT strategy at the business enterprise level.
Related Articles
Authorship/Referencing - About the Author(s)
The article is Written By "Prachi Juneja" and Reviewed By

Management Study Guide Content Team

. MSG Content Team comprises experienced Faculty Member, Professionals and Subject Matter Experts. We are a

ISO 2001:2015 Certified Education Provider

. To Know more, click on

About Us

. The use of this material is free for learning and education purpose. Please reference authorship of content used, including link(s) to ManagementStudyGuide.com and the content page url.