Leadership and Management - Relationship & Differences
Leadership and Management - Relationship & Differences
Leadership and management are the terms that are often considered synonymous. It is essential to understand that leadership is an essential part of effective management.
As a crucial component of management, remarkable leadership behaviour stresses upon building an environment in which each and every employee develops and excels.
Leadership is defined as the potential to influence and drive the group efforts towards the accomplishment of goals. This influence may originate from formal sources, such as that provided by acquisition of managerial position in an organization.
A manager must have traits of a leader, i.e., he/she must possess leadership qualities. Leaders develop and begin strategies that build and sustain competitive advantage.
Organizations require robust leadership and robust management for optimal organizational efficiency.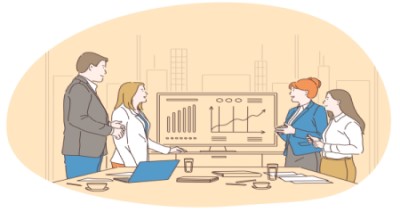 Differences between Leadership and Management
Leadership differs from management in a sense that:
While managers lay down the structure and delegates authority and responsibility, leaders provides direction by developing the organizational vision and communicating it to the employees and inspiring them to achieve it.
While management includes focus on planning, organizing, staffing, directing and controlling; leadership is mainly a part of directing function of management. Leaders focus on listening, building relationships, teamwork, inspiring, motivating and persuading the followers.
While a leader gets his authority from his followers, a manager gets his authority by virtue of his position in the organization.
While managers follow the organization's policies and procedure, the leaders follow their own instinct.
Management is more of science as the managers are exact, planned, standard, logical and more of mind.

Leadership, on the other hand, is an art. In an organization, if the managers are required, then leaders are a must/essential.

While management deals with the technical dimension in an organization or the job content; leadership deals with the people aspect in an organization.
While management measures/evaluates people by their name, past records, present performance;

Leadership sees and evaluates individuals as having potential for things that can't be measured, i.e., it deals with future and the performance of people if their potential is fully extracted.

If management is reactive, leadership is proactive.
Management is based more on written communication, while leadership is based more on verbal communication.
The organizations which are over managed and under-led do not perform upto the benchmark.
Leadership accompanied by management sets a new direction and makes efficient use of resources to achieve it.
Both leadership and management are essential for individual as well as organizational success.
Related Articles
Authorship/Referencing - About the Author(s)
The article is Written By "Prachi Juneja" and Reviewed By

Management Study Guide Content Team

. MSG Content Team comprises experienced Faculty Member, Professionals and Subject Matter Experts. We are a

ISO 2001:2015 Certified Education Provider

. To Know more, click on

About Us

. The use of this material is free for learning and education purpose. Please reference authorship of content used, including link(s) to ManagementStudyGuide.com and the content page url.