Job Analysis Process
Job Analysis Process
Where to place the employees in order to best utilize their skills and talent? How to determine the need of new employees in the organization? How to eliminate unneeded jobs? How to set realistic performance measurement standards? How to identify the jobs and prepare a plan to fill them?
Well, all this can be effectively done by a proper and thorough job analysis. Managers deal such kinds of challenges in day-to-day company operations where they need to fulfill effectively and efficiently fulfill the organization's requirements related to human resource recruitment, selection, performance, satisfaction and cutting down and adding extra responsibilities and duties. And there is no scope where they can avert the risk of being wrong.
An effective and right process of analyzing a particular job is a great relief for them. It helps them maintain the right quality of employees, measure their performance on realistic standards, assess their training and development needs and increase their productivity. Let's discuss the job analysis process and find out how it serves the purpose.
Job Analysis Process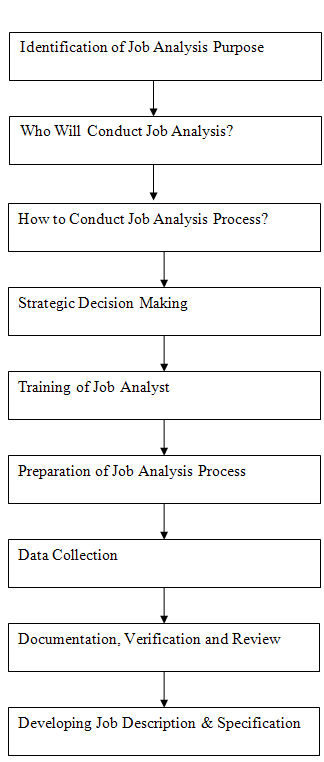 Identification of Job Analysis Purpose: Well any process is futile until its purpose is not identified and defined. Therefore, the first step in the process is to determine its need and desired output. Spending human efforts, energy as well as money is useless until HR managers don't know why data is to be collected and what is to be done with it.
Who Will Conduct Job Analysis: The second most important step in the process of job analysis is to decide who will conduct it. Some companies prefer getting it done by their own HR department while some hire job analysis consultants. Job analysis consultants may prove to be extremely helpful as they offer unbiased advice, guidelines and methods. They don't have any personal likes and dislikes when it comes to analyze a job.
How to Conduct the Process: Deciding the way in which job analysis process needs to be conducted is surely the next step. A planned approach about how to carry the whole process is required in order to investigate a specific job.
Strategic Decision Making: Now is the time to make strategic decision. It's about deciding the extent of employee involvement in the process, the level of details to be collected and recorded, sources from where data is to be collected, data collection methods, the processing of information and segregation of collected data.
Training of Job Analyst: Next is to train the job analyst about how to conduct the process and use the selected methods for collection and recoding of job data.
Preparation of Job Analysis Process: Communicating it within the organization is the next step. HR managers need to communicate the whole thing properly so that employees offer their full support to the job analyst. The stage also involves preparation of documents, questionnaires, interviews and feedback forms.
Data Collection: Next is to collect job-related data including educational qualifications of employees, skills and abilities required to perform the job, working conditions, job activities, reporting hierarchy, required human traits, job activities, duties and responsibilities involved and employee behaviour.
Documentation, Verification and Review: Proper documentation is done to verify the authenticity of collected data and then review it. This is the final information that is used to describe a specific job.
Developing Job Description and Job Specification: Now is the time to segregate the collected data in to useful information. Job Description describes the roles, activities, duties and responsibilities of the job while job specification is a statement of educational qualification, experience, personal traits and skills required to perform the job.
Thus, the process of job analysis helps in identifying the worth of specific job, utilizing the human talent in the best possible manner, eliminating unneeded jobs and setting realistic performance measurement standards.
Related Articles
Authorship/Referencing - About the Author(s)
The article is Written By "Prachi Juneja" and Reviewed By

Management Study Guide Content Team

. MSG Content Team comprises experienced Faculty Member, Professionals and Subject Matter Experts. We are a

ISO 2001:2015 Certified Education Provider

. To Know more, click on

About Us

. The use of this material is free for learning and education purpose. Please reference authorship of content used, including link(s) to ManagementStudyGuide.com and the content page url.