Problems with Job Analysis
Problems with Job Analysis
No process can be entirely accurate and fully serves the purpose. Job analysis is no exception to it. The process involves a variety of methods, tools, plans and a lot of human effort. And where 'people' are involved, nothing can be 100 percent accurate. However, they may be appropriate considering various factors including organizational requirements, time, effort and financial resources. Since the entire job analysis processes, methods and tools are designed by humans only, they tend to have practical issues associated with them. Human brain suffers with some limitations, therefore, everything created, designed or developed by humans too have some or other constraints.
Coming back to the subject, even the process of job analysis has lot of practical problems associated with it. Though the process can be effective, appropriate, practical, efficient and focused but it can be costly, time consuming and disruptive for employees at the same time. It is because there are some typical problems that are encountered by a job analyst while carrying out the process. Let's discuss them and understand how the process of job analysis can be made more effective by treating them carefully.
Problems with Job Analysis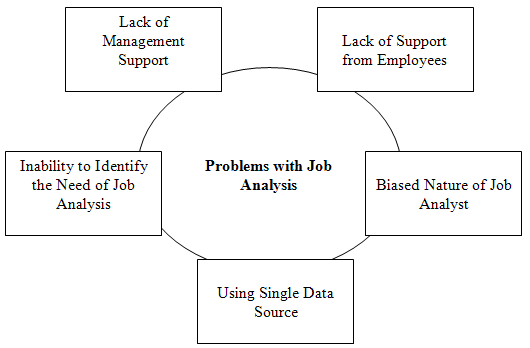 Lack of Management Support: The biggest problem arises when a job analyst does not get proper support from the management. The top management needs to communicate it to the middle level managers and employees to enhance the output or productivity of the process. In case of improper communication, employees may take it in a wrong sense and start looking out for other available options. They may have a notion that this is being carried out to fire them or take any action against them. In order to avoid such circumstances, top management must effectively communicate the right message to their incumbents.
Lack of Co-operation from Employees: If we talk about collecting authentic and accurate job-data, it is almost impossible to get real and genuine data without the support of employees. If they are not ready to co-operate, it is a sheer wastage of time, money and human effort to conduct job analysis process. The need is to take the workers in confidence and communicating that it is being done to solve their problems only.
Inability to Identify the Need of Job Analysis: If the objectives and needs of job analysis process are not properly identified, the whole exercise of investigation and carrying out research is futile. Managers must decide in advance why this process is being carried out, what its objectives are and what is to be done with the collected and recorded data.
Biasness of Job Analyst: A balanced and unbiased approach is a necessity while carrying out the process of job analysis. To get real and genuine data, a job analyst must be impartial in his or her approach. If it can't be avoided, it is better to outsource the process or hire a professional job analyst.
Using Single Data Source: A job analyst needs to consider more than one sources of data in order to collect true information. Collecting data from a single source may result in inaccuracy and it therefore, defeats the whole purpose of conducting the job analysis process.
However, this is not the end. There may be many other problems involved in a job analysis process such as insufficient time and resources, distortion from incumbent, lack of proper communication, improper questionnaires and other forms, absence of verification and review of job analysis process and lack of reward or recognition for providing genuine and quality information.
Similar Articles Under - Job Analysis & Design
Authorship/Referencing - About the Author(s)
The article is Written By "Prachi Juneja" and Reviewed By

Management Study Guide Content Team

. MSG Content Team comprises experienced Faculty Member, Professionals and Subject Matter Experts. We are a

ISO 2001:2015 Certified Education Provider

. To Know more, click on

About Us

. The use of this material is free for learning and education purpose. Please reference authorship of content used, including link(s) to ManagementStudyGuide.com and the content page url.
next