The Importance of Employer Branding
The Importance of Employer Branding
Employer branding is not an illusion. It's of absolute importance for organizations eyeing on the best industry talent, aiming to drive innovation and aspiring to remain at the forefront of the competition. Let us understand its importance by taking a look at the initiatives that top companies from across the world have taken to establish themselves as strong employer brands.
Google
Google has been repeatedly topping the charts and is considered the most preferred employer throughout the world. So what helps this 16-year old American MNC maintain its rankings? Obviously, it's philosophy 'work hard, play harder' is behind its success. Besides, continual upgrade in employees' perks and benefits makes it an employer of choice.
But that's not the only thing that keeps employees glued to the company. It encourages its people to 'do cool things that matter'. The employees are allowed to dedicate 10% of their paid working time to dedicate to the things that they really love doing.
Do you remember 'Internship', a Hollywood movie released in 2013? Go watch it, if you haven't yet. The $58 million movie gives an insightful view on the company culture. It says a lot about the life at Google. The company has taken a series of initiatives to strengthen its employer brand, one of which is compelling storytelling.
Employer Branding = People
Branding has always been about the organization and its reputation. However, traditionally people were not a part of branding. It was generally associated with what people thought about a company's products and services.
But as the business world is going through one of the most interesting yet challenging times, people have started associated branding with the experiences that they (internal and external customers) have with the company. Now it's more about people.
And employer branding is the birth child of this thinking. What employees feel about their organization and what talent in the job market perceive about it matters a lot. What employees are telling their families, friends, acquaintances and strangers about it, working there, the benefits they receive and the level of contentment they experience can make or break a company's reputation. Employee experience has a ripple effect on customer satisfaction.
Mahindra & Mahindra
While Mahindra is a global brand, most commonly it is associated with India and more precisely the manufacturing sector. But the truth is that it has diversified into information technology, retail and finance. And the company is dedicated to help employees shape their destinies.
"Challenge Conventions, Bringing Alternative Thinking at Workplace, and Drive Positive Change in the Lives of Our Customers, Recognition for Outperformance, Empowering Environment and Abundant Learning Opportunities."
This is what EVP (Employee Value Proposition) statement says at Mahindra & Mahindra Automotive & Farm Equipment Sectors. This message is sent out to employees, in order to encourage them to challenge conventions and bring innovation at workplace. The organization has taken a series of initiatives to create a "WOW Experience" for the candidates.
The company takes a look-in (internal) and look-out (external) approach, to establish itself as an employer of choice. In the look-in approach, they constantly examine their existing HR practices and processes and take corrective actions whenever and wherever possible. They encourage their employees to stretch their limits and come up with out-of-the-box ideas. They also offer learning opportunities to employees in abundance.
As a look-out approach, Mahindra launched itself as an employer brand by leveraging social media and taking to the selected college campuses. It started 'Mahindra Igniters' Day' program under which B. Tech (engineering) students are challenged to showcase their unique skills and devise innovative solutions for a given problem. The company has also launched entry-level engineering training schemes to position itself as an employer brand in front of fresh talent. This not only gives them the access to the best talent but also reduces the cost of recruitment.
Employer Branding = Helping People Shape Their Destinies
Employer branding is also about helping people shape their destinies. Because when organizations support it, this impacts their own reputation. It builds a sense of community building because happy people build happy communities and happy organizations. An effective talent brand gives employers the benefit of positive perception among the people that matter the most.
Adobe
Adobe is a multinational company. What make it an employer of choice are its small town values. Yes, this is deeply rooted in the way it operates. The organization is a diverse community who are extremely passionate about what they do and the difference they bring. The company encourages alternative thinking among its employees, to see their other side. A person may be extremely good at doing something else and recognizing this can help people place at the right job.
So, what other initiatives has the company taken to strengthen its employer brand? The company has Adobe Life Blog, where it features the unique individuals it has. Another initiative is that the company encourages its employees to share their career experiences on social platforms with the use of hashtag #AdobeLife. This gives potential talent a window into the lives of existing employees.
Employer Branding = Flaunting Your People
Believe it or not, employer branding is also about flaunting your people, their experiences and their sentiments towards the organization. When companies are able to show how people are empowered, encouraged and recognized, they ultimately send out messages to the prospective candidates about how even they can build a stable future with the company.
Changing Needs and Aspirations of Employees
Talent war is real. Most companies are trying to attract and retain great talent by showing that they will be valued the most. Well, this philosophy may attract some of the greatest talent, but it doesn't necessarily create an engaged workforce that wants to be retained in the company.
The needs and aspirations of employees have changed over time. As they bring a wealth of ideas with them, they expect organizations to give them freedom over where they work, when they work and how they work. Besides they also expect their companies to take care of the rest.
As workforce is now bombarded with millennials who value freedom more than anything, organizations need to drop the traditional ways of work and offer creative freedom to their people. It not only instills trust in people but they get people to work when their creativity is at peak.
More is less. Just when you think you're doing enough for your employees, look at your competitors. What you've just started offering your employees, most of them have been doing it for decades. Millennials look for unique benefits, personalized to their needs and interests – something that could bring the best out of them. So, if you're trying to attract them with routine benefits, you're at the losing end. Stay current with what people want. You may want to adopt look-in approach to analyze HR procedures and practices and benefits as Mahindra does.
According to a new survey conducted by the Society for Human Resource Management, here are the five things that employees want the most other than freedom and flexibility at work. The survey was conducted on over 600 people.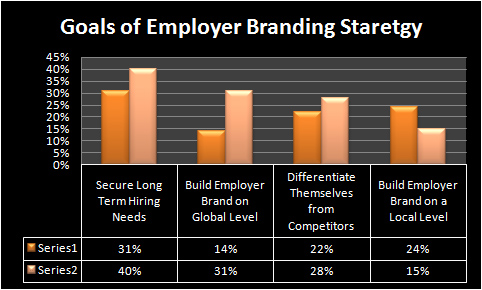 Importance of Employer Branding
The Future of Work recognizes the value of innovation, flexibility and agility. And only companies with the best think tanks can sustain and grow in a highly turbulent business environment. The employer brand has a direct impact on the kind of people businesses attract. It's at the center of any recruitment strategy.
Let's look at the latest findings of Harvard Business Review about what employers expect to achieve through employer branding:
Series 1: Represents Year 2015
Series 2: Represents Year 2020
40% of the CEOs surveyed want to secure long term hiring needs by focusing on their employer branding initiatives.
This clearly shows that employer branding is important to:
Attract new talent as it people want to associate themselves with an organization that cares for its people and gives them freedom to work the way they want to.
Retain their existing employees to reduce the cost of new hiring. Investing into well being and happiness of employees is important in shaping employer's brand. It's the word of mouth that spreads faster than fire.
Build a global reputation, so that people from around the world are attracted to work with them. With a wider talent pool, companies have more choices and can pick the best from the crowd.
Secure long term hiring needs, which is possible only if the company is able to attract a wider pool of talent for years to come.
Enhance customer experience. This is because company reputation and customer experience are intertwined. And a company's reputation depends much more on the quality of people it has and innovation its drives.
Strengthen online brand visibility. As social media plays a crucial role in spreading the information, with a strong employer brand a company will be able to expand its reach it far flung areas.
Have more influence on customers. It's impossible for companies to police their brands constantly. It's the employees whose experience counts. What they spread about you has influence on customers. When you're good with your internal customers, it directly impacts the satisfaction level of external customers.
Anyone, including beginners and veterans, who are making a move in their career will always take into consideration:
How a company treats its employees
How workplace culture is
What the chances of growth are
What opportunities a company provides for personal development
If the company has seen too many salary freezes
What perks and benefits the company offers
A company with strong employer brand shows that it cares for people and values them. It has a long way to go.
Authorship/Referencing - About the Author(s)
The article is Written By "Prachi Juneja" and Reviewed By

Management Study Guide Content Team

. MSG Content Team comprises experienced Faculty Member, Professionals and Subject Matter Experts. We are a

ISO 2001:2015 Certified Education Provider

. To Know more, click on

About Us

. The use of this material is free for learning and education purpose. Please reference authorship of content used, including link(s) to ManagementStudyGuide.com and the content page url.
next